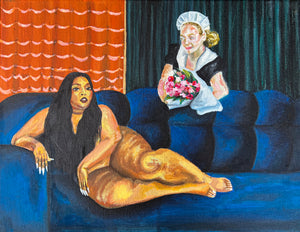 Olympia (Lizzo)
Regular price
$1,100.00
$350.00
Unit price
per
"Olympia (Lizzo)" Oil, gold leaf, acrylic on canvas. 2022. 8 x 10"
If you've studied art history, you may have come across the many variations of the Olympia painting by Titian. I'm not sure which one is the most famous, but the one I love the most is Olympia by Eduard Manet. 
In Manet's Olympia, a prostitute looks boldly at the viewer while receiving flowers via her servant from a client or maybe a suitor. Being a prostitute may not be something to be happy about or proud of. But her comfortability and the way her gaze challenges the viewer despite her nakedness are bold and empowering for me as a woman. 
I applied this concept to what I felt was the opposite, a 21st-century rendition of the painting. What's the opposite of a white woman being served by her African servant? A black woman served by a white one. Lizzo is known for empowering displays of her big beautiful body, and in this painting, she shamelessly looks at anyone who dares to look at her. Why should she cower at her nakedness? She is beautiful. 

In this painting, I bring to question body positivity, confidence, sexuality, and race. 
Framing options are available in my custom, bubble frames, hand made by me. 
Room Vibes: Dark Blue, browns, maroon, dark, and modern color schemes. Energies include museum-esque quality paintings, challenging and bold, which may appear minorly offensive and black supremacists if a person doesn't know art history or understand art. Pop culture in art vibes.
---
Share this Product
---